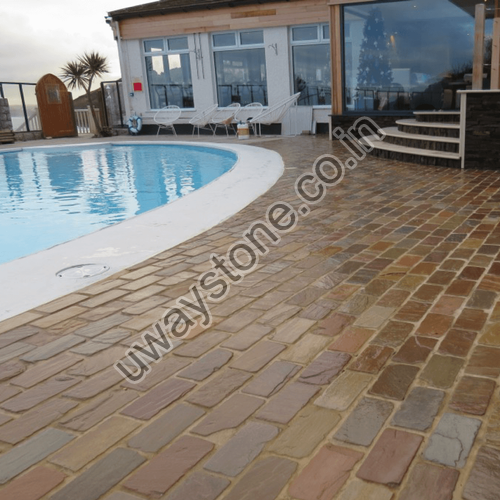 Sandstones are sedimentary rocks, mainly composed of silicate grains of sand size, that varies from 0.0625mm to 2mm. About 20 to 25 per cent of sedimentary rocks are sandstones. Sandstones are mainly clastic in origin which opposes organic composition, like coal and chalk and chemical composition like gypsum and Jasper.
From prehistoric times, sandstone has been used for different constructions, decorative housewares and artworks. All around the world, sandstones are used for constructing homes, temples and other buildings. The resistance property of sandstone makes it easy to apply for building and paving purposes.

Stones in India
India owns a wide range of dimensional stones which includes marble, granite, slate, limestone, quartzite and sandstone in different states of our nation. The stone industry in India has expanded itself into the production and manufacturing of structural slabs, blocks, tombstones, monuments, sculptures, landscape garden stones, cobbles and flooring slabs. India is considered the pioneer in the mining and exploration of commercial rock deposits and therefore in establishing a strong base for the stone industry.
In India, sandstone reserves are found in the states of Assam, Andhra Pradesh, Gujarat, Bihar, Madhya Pradesh, Meghalaya, Haryana, Karnataka, Mizoram, Uttar Pradesh, Punjab, Odisha, West Bengal, Tamil Nadu and Rajasthan. Rajasthan tops in this list with 90% of the deposit. India is also famous for different coloured sandstones.

Pavements of Autumn Sandstone Cobbles
A pavement or road surface is the area aimed to hold down vehicular traffic or foot traffic. They are made by durable surface materials like gravel road surfaces, granite setts and cobblestones. Cobblestones are modelled either set up with sand or similar to sand materials or are bind with workable paste used for building blocks like bricks, stones and other concrete masonry units.
There are plenty of suppliers in India, which provides paving products of quality Indian sandstone. Autumn sandstone cobbles are one of these products. Being committed to providing quality products they go through in-depth research and development of these paving items with rigorous quality testing at every stage. These manufacturers and suppliers are mostly registered to ISO 9001:2015 certification, therefore they promise a sense of duty to nature and surrounding.
These manufacturers also carry out some linear business forms. They have engaged themselves in the mining and processing of sandstone if various colours. Therefore, most of these manufacturers can source their raw materials from their own mines. This reduces the cost of production and thereafter offers the customers some reasonable prices.

The product
Autumn brown sandstone cobbles come in various and areas. Customers can choose these according to their requirement. These sandstone cobbles are light brown in colour with a natural surface finish. The main characteristics of these cobblestones are they are hard with long durability and they are capable of withstanding harsh weather conditions. Therefore these sandstone cobbles are mainly used for hardscaping. These natural sandstone made cobblestones are used mostly in commercial projects and also residential purposes, yet manufacturers accept a minimum order quantity of 20 tonnes.
The manufacturers and suppliers along with the products try to provide convenient and faster solutions. They offer logistic services to the honoured customers, for a smooth working pace. They follow a packaging of strong crates made of wood, which are further wrapped up in waterproof plastics.