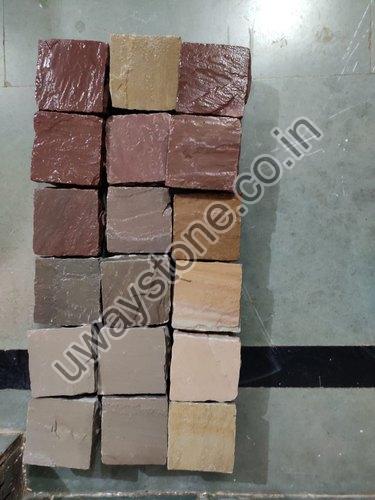 Sandstone Cobbles are hand chiselled natural paving stones which are set on the paving floor and give an elegant appearance and sturdiness to the exterior décor. Either using Mix Color Sandstone Cobbles or creatively uniting two or more colours, sizes and patterns, the Sandstone Cobbles can deliver pleasant results in each form. An extensive range of Cobblestones is offered to meet your high, medium and low traffic handling necessities. When escorted with patio designs they produce an illusion of wider space and add a stylish look to any outdoor décor.
Types of the sandstones Cobbles
Kandla Grey Sandstone Cobbles
Obtained with either a naturally driven or smooth, sawn and honed surface, Kandla Grey is a great selection for making a modern patio when complemented by contrasting tones but also works well in traditional settings.
If you're looking for a reasonable option without negotiating on quality and appearance, this natural Indian sandstone paving is a reasonable yet hard-wearing option that will stand the test of time to keep your garden looking its finest for years to come!
Sawn Mint Sandstone Cobbles
Sawn Mint Sandstone features a medley of buff, yellow and beige tones which are suitable for modern gardens and also make a fantastic addition to planting areas!
The smooth, sawn slabs offer a variability of natural differences in tone and colour with special orange and purple veining through the surface of the slab, which adds to the natural appeal of the stone.
Raj Green Sandstone Cobbles
Raj Green Sandstone brags a natural surface and a medley of supple, plain hues, comprising green and brown, dappled with occasional plum and grey tones. Like all natural sandstone paving, no slab is the same and the decently sourced Indian Sandstone promises an outdoor area filled with character and charm, delivering a wealth of design opportunities.
Rainbow Sandstone Cobbles
Rainbow Sandstone is an eye-catching and tough Indian Paving option utilized for patios and pathways, with each paving slab offering individual abilities of intense swirls and patterns! Transform your space with cheerful oranges and purples which will brighten up, and garden or patio.
Rippon Buff Sandstone Cobbles
Rippon Buff Sandstone is an eye-catching multi-coloured paving option containing underlying buff tones. The exclusive natural veining and variants in tone from slab to slab provide the stone with its natural charm and beauty. This sophisticated stone looks great when wet and will stay looking its greatest all year round!
Things to be considered before buying the Sandstone Cobbles
The British Standard
The first thing to identify is that there is a British Standard which covers Indian sandstone. This is the least standard you should accept when it comes to your Cobbles.
Water absorbency
Sandstone with a good level of water absorbency – that is, one that attracts too much water – will be more susceptible to frost and more likely to attract algae or lichen development over time which means it is harder to keep clean.
Flexural strength
Flexural strength is a pointer to the power of stone. The greater the number, the less chance there is of the stone becoming damaged also in transit or once it has been laid in your garden.
Frost resistance
Regular frosts are common in the British winter and a recurrent freeze-thaw can have an influence on the strength of stone over time. All sandstone sold by Marshalls is frost resilient, which means the influence of a harsh winter will be minimal.
Ethical sourcing
Another thought when it comes to stone is where it has come from and whether it has been extracted and manufactured in a way that is safe and fair.