Decorate The Floor Of Your Residence With A Wide Range Of Sandstone
Posted by Admin on August, 31, 2021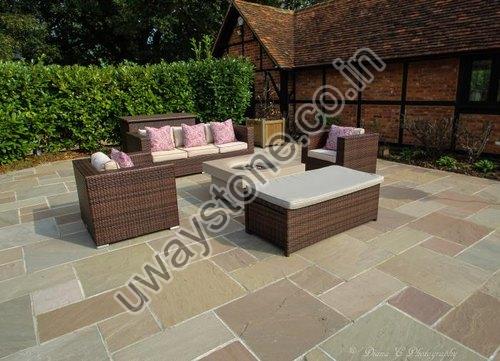 In the era of modern construction customising the floor according to the ethics of the building is very frequent. everyone wants to reflect their ideology with the interior design, as it speaks a lot about that. But getting top quality material with 100% authenticity is very challenging. But nowadays a lot of company has started home delivery of sandstone after mining and checking the quality.

As Rajasthan is the largest sandstone producer a lot of Raj Green Sandstone Paving is done there. Also, the companies work as Raj Green Sandstone Paving Exporter. They follow all the necessary steps before delivering them.

The mining process
The very first step is mining and then processing various colours of stone. It's a very crucial process because nearly 1000 people are involved with this. Starting from a first-class mine manager, mine foreman, mechanical engineer and electrical supervisor are associated with this process.
Apart from the manpower a lot of instruments are also a part of this, including damper, excavator, wagon drills and many more.

Manufacturing
Raj Green sandstone paving and manufacturing are also important steps. These companies produce various types of sandstones. The manufacturing units are equipped with modern tools and state of the art facilities to develop high-quality products within the stipulated time period.
Lastly, the sandstones are equipped with the latest software and get the shape of different slabs tiles and other different products. Different ranges of sandstone's are available like polished, leather, honed, flamed and sandblasted.

Process Of Quality Control
The head office receives different orders and each one of customer's specification is noted thoroughly. Once the production is done, a report is sent to the head office by a quality officer.
Every product is gone through some process to get the proper authenticity. The experienced, dedicated and qualified professionals ensure top quality all the time. And that's how quality control is done after Raj Green sandstone paving and manufacturing.
Those different colours are due to the nature of the natural stones. A slight colour variation might be seen sometimes.

Packing and Delivery
A lot of damage could occur while loading, unloading and delivering. That's why Raj Green Sandstone Paving Exporter pays huge attention and take care while this process is done.
To give them proper protection from crashes, chipping and other kind of damage packing is done in a very proper way. A lot of soft support is given.

Also, they have a very effective transport and shipping system. They deliver all the ordered sandstone within the delivery schedule.

So now getting the proper sandstone is not a very tough job. Everything can be done with few clicks. And customers can select their preferable ones from the lists. They should not bother about the delivery and the quality of those products.

Everything starting from mining, processing, quality control and packing and delivery will be briefed thoroughly to the customers. Even if any kind of damages and damages occur while delivering company will take full responsibility. All those defective ones will be replaced by new ones without a single penny.


This entry was posted on August, 31, 2021 at 18 : 40 pm and is filed under Sandstone Tiles. You can follow any responses to this entry through the RSS 2.0 feed. You can leave a response from your own site.